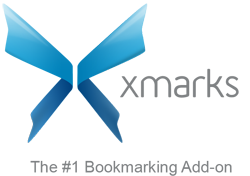 As the company blog reports, X marks, the popular bookmark synchronization tool, will be shutting down within 90 days. Xmarks had been a primary choice as a browser add-on for all those web surfers who wanted to synchronize their bookmarks, passwords and other data on several computer and browsers.The company had enjoyed immense popularity among its 2 million users across 5 million desktops who have bookmarked a billion sites.
Xmarks started off its journey as Foxmarks, a Firefox add-on in 2006. But it got rebranded as Xmarks last year extending its bookmarking advantages to Microsoft's Internet Explorer, Google's Chrome and Apple,s Safari. It also included a password and tab management tool. Besides its "smart- search" feature which filtered its collection of a billion bookmarks provided a spam free search on any category. Recently all browsers are including the services provided by Xmarks for free. Running low on funds the company was left with no other way than shutting down its services.
The company's attemt to sell itself in the first quarter of 2010 failed and so did the hope of its continuation. The company had informed in its blog that all users will receive a notification email regarding the shutting down of the service in 90 days.The Xmarks service is scheduled to be switched off after January 10, 2011.